This quirky town nestled near the Smoky Mountains is known for mountain views, hiking, and fantastic craft beer—it's a huge part of Asheville's culture. Asheville residents are proud of their craft beer scene, and it's something they enjoy and love sharing with visitors.
When choosing an Asheville brewery to relax and drink a cold one at, you have several options. From smaller local breweries to some larger scale beer companies, you won't be disappointed with any choice you make.
Are you struggling to map out which breweries to visit in Asheville? These are the best breweries serving up craft beer in Asheville.
Best Breweries in Asheville
Archetype Brewing
Asheville Brewing Company
New Belgium Brewing
Hillman Beer
Twin Leaf Brewery
Wicked Weed Brewing
One World Brewing
French Broad River Brewing
Riverside Rhapsody Brewery
Hi-Wire Brewing
Zillicoah Beer Co.
Ginger's Revenge
Burial Beer Co.
Sierra Nevada Brewery
Catawba Brewing Co
Bhramari Brewing Co.
Highland Brewing Company
DSSOLVR
Eurisko Beer Company
Green Man Brewery
Wedge Brewing Co.
---
Archetype Brewing
265 Haywood Rd, Asheville, NC 28806
Phone: (828) 505-4177
Visit Website
The master brewers behind Archetype Brewing brought their vision to life in 2016. While they've only been around for five years, they're a staple in the East-West neighborhood of West Asheville. Local flavors and ingredients inspire their beers.
A Belgian process inspired the brewing at Archetype. The brewers are constantly experimenting with new flavors and ingredients to bring new and exciting flavors to the beer scene.
Archetype Brewing has grown in popularity, quickly becoming the social spot for locals and visitors alike. In 2019, they expanded the brewery to include a taproom in downtown Asheville.
In both their taprooms, you'll find their core beers which are the tried and true, not going anywhere beers. They also have core seasonal beers that you can expect to return at a specific time each year.
In addition to those creations, you can try their small-batch brews. But you need to try them while you can because when the keg is out, they're gone.
---
Asheville Brewing Company
77 Coxe Ave, Asheville, NC 28801
Phone: (828) 255-4077
Visit Website
Since 1998, Asheville Brewing Company has been keeping beer drinkers hydrated with their fantastic and hoppy creations. To serve their loyal and growing customer base, they have three taprooms dotted through the city. You can visit them in their original North Asheville location, downtown, and in South Asheville.
Asheville Brewing Company serves the perfect combination: craft beer and pizza. They even show movies at their North Asheville location so you can sit back and be entertained with a local beer. Some of my favorite brews are their 828 pale ale, Draft Punk double IPA, and their Ninja Porter.
---
New Belgium Brewing
21 Craven St, Asheville, NC 28806
Phone: (828) 333-6900
Visit Website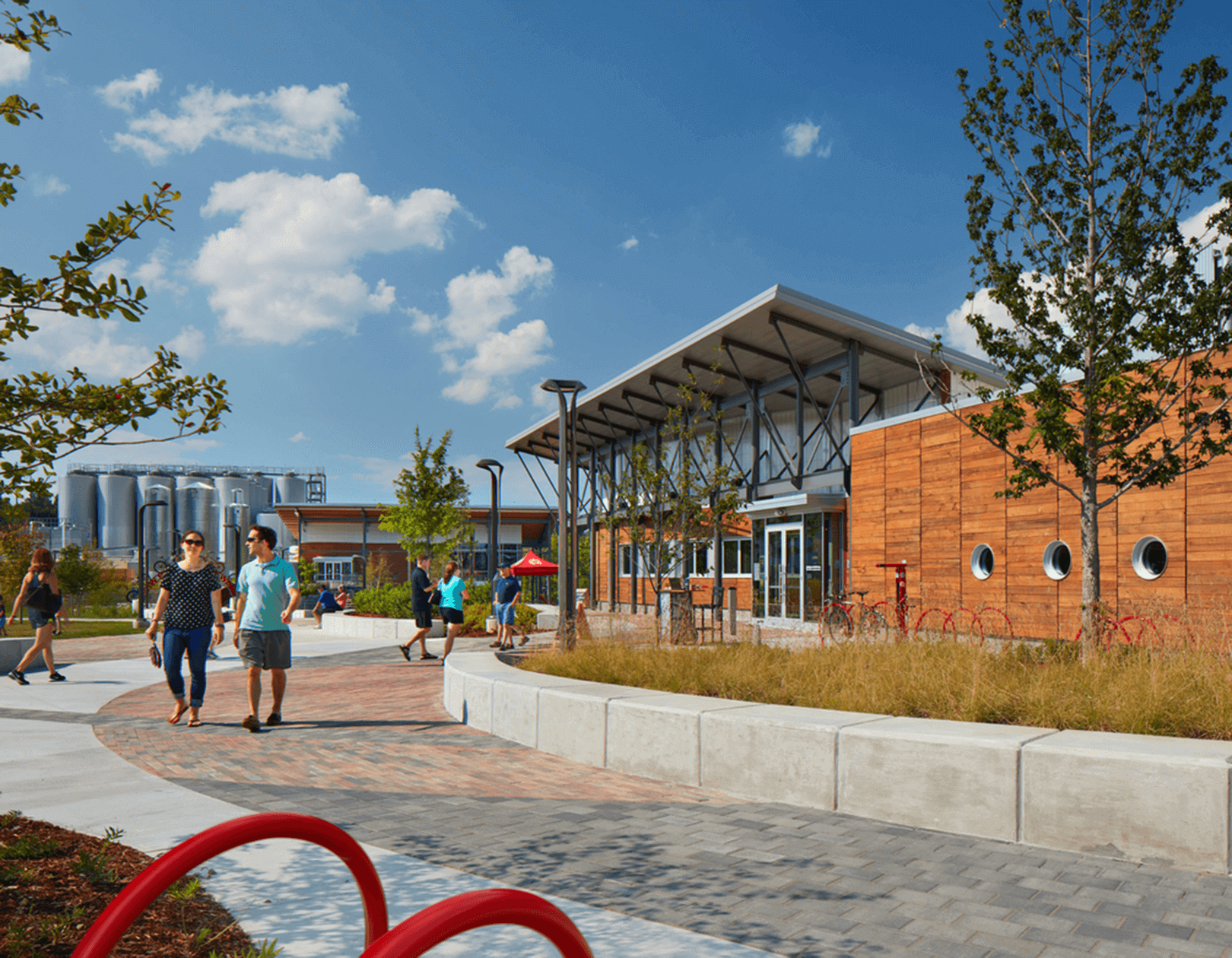 This Colorado-based brewing company is so popular that they were able to establish themselves on the country's east coast. And what better place for an additional brewery and taproom than the beer-centric city of Asheville.
You'll find New Belgium Brewing across from downtown Asheville and across the French Broad River. You can enjoy any other fantastic brews inside or on their patio.
Patrons can sip on New Belgium classics, such as Fat Tire and Voodoo Ranger, or taste some of their creations specially brewed in North Carolina.
---
Hillman Beer
25 Sweeten Creek Rd, Asheville, NC 28803
Phone: (828) 505-1312
Visit Website
Hillman Beer is a local, family-owned brewery that has been serving Asheville since 2017. Unlike many of the other popular breweries in the area, Hillman Beer wasn't striving for the modern industrial aesthetic. Instead, the Hillman brothers wanted to bring back a cozy pub that also brews beer.
Their beers are straightforward and tasty. When you stop in for a visit, you won't want to leave without trying Kolsch, their classic German beer, or the Family Tradition, which is their Belgium hop blonde. Also, don't forget to try any of their delicious bites or sandwiches.
---
Twin Leaf Brewery
144 Coxe Ave, Asheville, NC 28801
Phone: (828) 774-5000
Visit Website
South Slope has several of the best breweries in Asheville, and that's where you'll find the family-friendly Twin Leaf Brewery. Fun for just about everyone, you'll be able to bring your kids and your furry friends along with you.
Since they don't serve food here, your dogs are allowed inside so you both can stay out of the heat. Beer lovers are encouraged to bring food from outside restaurants to the taproom if you'd like something to munch on.
You can sit back and relax with a cold one or gather a group of friends to play giant Jenga, shuffleboard, or foosball. There are 15 beers on draft, including the ever-popular Leaf IPA and 144 IPA.
---
Wicked Weed Brewing
91 Biltmore Ave, Asheville, NC 28801
(828) 575-9599
Visit Website
Wicked Weed Brewing is a unique brewery in downtown Asheville. In the basement, you'll find a traditional brewery and taproom. But, when you venture upstairs, you'll find an upscale restaurant and bar.
In their basement taproom, they have 15 beers on tap, and then upstairs, there are 20. Their year-round brews are sour and IPA-focused, but they do experiment and create seasonal brews to switch things up. Their Appalachia IPA and Black Angel sour are featured year-round.
Locals and visitors alike can visit Wicked Weed any day of the week. If you want to learn more about the brewing process Wicked Weed uses, they offer tours of their brewery.
---
One World Brewing
520 Haywood Rd, Asheville, NC 28806
Phone: (828) 575-9992
Visit Website
Before One World Brewing came to be, the owner was brewing beer at his house. After years of homebrewing, he took his passion and turned it into a business in 2014. Now, One World Brewing has two locations: in West Asheville and downtown.
The brewers at One World place an emphasis on the combination of ingredients when creating a new beer. What's more, they also do their best to source ingredients locally, and only look for those of the highest quality.
One World Brewing has a good selection of beers, with plenty to offer for many who walk through their doors. They have sours, IPAs, porters, and gluten-free hard seltzers.
---
French Broad River Brewing
101 Fairview Rd D, Asheville, NC 28803
Phone: (828) 277-0222
Visit Website
French Broad River Brewing is one of the original breweries that helped grow the craft beer community in Asheville. Since 2001, they have been creating a beer inspired by the French Broad River that flows through the city.
You can find this brewery and taproom at the edge of the Biltmore Village. This is a place to enjoy with friends and family. In fact, it's the perfect spot to play ping pong, giant Jenga, or corn hole with your group.
French Broad River Brewing has ten craft beers on tap throughout the year and a smaller selection of seasonal and small-batch recipes. They have a heavy focus on IPAs, but there's plenty for everyone to taste.
---
Riverside Rhapsody Brewery
995 Riverside Dr, Woodfin, NC 28804
Phone: (828) 575-2370
Visit Website
About ten minutes north of Asheville is the Riverside Rhapsody Brewery. The idea behind Riverside Rhapsody came from the two owners, Mike and Joey. They were brewing beer at a pizza company where they had the time and ability to grow their skills.
When they finally pulled together enough money, they were able to open up a brewery that combined their love of beer and music. This small craft brewery has quickly become a community staple and what some may call a local watering hole.
This small but excellent brewery has masted Belgian ales and IPAS. Even though they focus on these the most, that doesn't stop them from brewing sours and lagers.
---
Hi-Wire Brewing
197 Hilliard Ave, Asheville, NC 28801
Phone: (828) 738-2452
Visit Website
Hi-Wire Brewing has two locations in Asheville: a brewery in South Slope and a calmer spot near Biltmore Village. The brewers at Hi-Wire want to honor traditional beers, but are noted for experimenting with flavors and unusual ingredients.
Their more settled location is the one near Biltmore Village. However, South Slope has been where they've launched their experimental brews and small batches to the public. There, they also develop their recipes, as well as regularly experiment with barrel-aged sours and other fruity ales.
Regardless of which you choose, you'll still find Hi-Wires' flagship beers, including lager and various IPAs.
---
Zillicoah Beer Co.
870 Riverside Dr, Woodfin, NC 28804
Phone: (828) 424-7929
Visit Website
Less than a mile down the road from Riverside Rhapsody is another favorite, Zillicoah Beer Co. Zillicoah is situated on four acres of waterfront property on the French Broad River. If you love to gaze at the water with a beer in your hand, this is the spot to be.
Similar to other breweries in the Asheville area, the brews crafted here are rooted in tradition. Still, the brewers are more than comfortable stepping outside their comfort zone to create some unique brews.
If you've never been here before, you have to try one of their top-selling creations, the Bohemian Pilsner. For those who prefer something that's not a lager, I like their IPA or Hoppy Hazy Brett Beer are fantastic options.
---
Ginger's Revenge
829 Riverside Dr Suite 100, Asheville, NC 28801
Phone: (828) 505-2462
Visit Website
Generally, ginger beers are non-alcoholic and are great for kicking nausea. At Ginger's Revenge, they naturally specialize in making alcoholic ginger beers. All of their beers are gluten-free and contain 95% organic ingredients.
You can find this unique spot in Asheville just north of downtown, along the river. So even if you tend to lean towards lagers and blonde ales, you'll be able to try some of the best beer Asheville has to offer at Ginger's Revenge. And Asheville has a lot to offer!
Their Original recipe is an award-winning beer made with ginger, sugar, grapefruit juice, spices, and habaneros. If you want a sampling of their other offerings, their hibiscus lavender and cranberry herb are always on tap.
---
Burial Beer Co.
40 Collier Ave, Asheville, NC 28801
Phone: (828) 475-2739
Visit Website
Several of the breweries in Asheville call South Slope home. Of those companies, Burial Beer Co. may be the most famous. When the founders started back in 2013, they only had a one-barrel system. Within one year, that had grown to ten.
Burial is a full-service taproom with a complete kitchen that serves classic American dishes alongside beer. They have a heavy focus on German lagers and Belgian ales. Reflecting the name, their creations have morbid but entertaining names, such as A Cruel World Nevertheless.
Thanks to their kitchen, you can ask your beer expert which pair best with the meal you're eyeing. However, you don't have to eat here to enjoy their beer. Some of their most popular offerings are the Surf Wax IPA and the Skillet Donut Stout.
---
Sierra Nevada Brewery
100 Sierra Nevada Way, Fletcher, NC 28732
Phone: (828) 681-5300
Visit Website
Even if you're not a beer drinker, almost everyone has heard of the Sierra Nevada Brewery. Sierra Nevada has been brewing classic craft beer since the 1980s, and now you can visit them just south of Asheville.
Sierra Nevada's Asheville location is a full-service taproom and restaurant. When you visit, you'll have access to their gift shop and their beautiful outdoor spaces before and after your meal. As they currently are only taking reservations, you'll want to plan ahead to ensure that you get the chance to experience the brewery.
You can't go wrong with sipping on their classic pale ale or their Torpedo extra IPA. If you're itching to try some of their seasonal crafts, the Summer Break hazy IPA is fantastic, as is their Oktoberfest beer, Prost Like a Pro. Of course, you'll have to taste these at different times of the year.
---
Catawba Brewing Co.
32 Banks Ave, Asheville, NC 28801
Phone: (828) 552-3934
Visit Website
Catawba Brewing is well known in the Carolinas. The founders have roots in this region and named their brewery after the Catawba River. They've expanded to cities in both North and South Carolina, which suggests that they know how to please the craft beer community.
Their two locations are situated in Catawba, in the South Slope, and in the Biltmore Village. From stouts to IPAs and white to brown ales, there's likely every beer under the sun for everyone at Catawba.
As an added source of entertainment, the Biltmore Village spot hosts ax throwing. If you've never witnessed an activity like this before, then it's bound to make for a fun experience. Be sure to check out their White Zombie Ale or their Hopeness Monster IPA. Or both, we're not here to judge.
---
Bhramari Brewing Co.
101 S Lexington Ave, Asheville, NC 28801
Phone: (828) 214-7981
Visit Website
Another famous South Slope brewery is Bhramari Brewing Co. Bhramari wasn't always going to be the name of this unique and funky brewery. Hive Mind was the original name, but when the founders realized that another brewery was using it, they decided on Bhramari. Bhramari is the Hindu goddess of bees.
Whether you're working at Bhramari or simply a patron in their taproom, the owners wanted everyone to feel like they're a part of something bigger. And being a part of the Asheville beer scene, it's hard not to feel a part of something special.
To see what everyone's buzzing about, you need to stop in and try their most well-known beers. The Good Fight is a sour pale ale that you can order all year, and their IPA Neon Ghosts is just as wonderful. If you can't seem to decide on one beer, order a flight of four of their beers.
---
Highland Brewing Company
12 Old Charlotte Hwy #200, Asheville, NC 28803
Phone: (828) 299-3370
Visit Website
With so many excellent breweries calling Asheville home, one had to make their home here first. The first brewery was Highland Brewing Company. Highland Brewing has been crafting beer since 1994. Since their founding in the 1990s, they've been brewing and distributing their creations throughout the region.
Highland Brewing planted its roots in East Asheville, which now is considered to be off the beaten path compared to other breweries. But it's still more than worth a visit, even if it's a little separate from the others.
Their taproom is a large shipping container with a decent size outdoor venue known as The Meadow. Do you want to try "Asheville's first beer?" Order their Gaelic Ale in their taproom to experience one of the oldest recipes in Asheville.
---
DSSOLVR
63 N Lexington Ave, Asheville, NC 28801
Visit Website
There's no sign that the beer scene in Asheville is slowing down anytime soon. With that comes Asheville's newest brewery, DSSOLVR. Their aesthetic is very trippy and psychedelic, making it a relaxed and fun place to be.
Unlike the other brewing companies in Asheville, DSSOLVR markets itself as a beverage company, not just craft beer. They have big plans for the future, including brewing cider, mead, and even wine. Of course, they'll still be brewing trippy beer.
They have 20 beers on tap in their taproom for you to taste and enjoy. For a super easy beer to drink, give their Kolsch a try. Are you looking for something a little hoppier? The Slugging of Time may be the beer for you.
---
Eurisko Beer Company
255 Short Coxe Ave, Asheville, NC 28801
Phone: (828) 774-5055
Visit Website
When Eurisko Beer Company opened its doors in 2017, they extended the South Slope Brewing District a little bit further south. Three North Carolina natives bought a barbershop, renovated it, and created a beautiful two-story taproom with a small outdoor space to serve their beer.
Eurisko doesn't have the largest selection of beers, but the small amount they do have is worth a try. While plenty of breweries in the area have a porter or two on their draft list, they're known for their pale ales. At Eurisko, you have to try Penny Cup, a downright delicious porter.
---
Green Man Brewery
27 Buxton Ave, Asheville, NC 28801
Phone: (828) 252-5502
Visit Website
Green Man has been in Asheville almost as long as Highland Brewing. Since 1997, they've been serving locals and visitors alike with hop-forward beers. However, they have remained true to English brewing styles over the years.
One of their most recent developments is their three-story "brewtique." It's an indoor and outdoor taproom where you can see the production and the beautiful Blue Ridge Mountains. You can't go wrong with trying their Green Man IPA.
---
Wedge Brewing Co.
37 Paynes Way, Asheville, NC 28801
Phone: (828) 505-2792
Visit Website
Wedge Brewing is located in a 19th-century warehouse that has been renovated for brewing and serving patrons. You can find Wedge in Asheville's art district rather than South Slope.
They have extensive outdoor seating, so you can appreciate all this mountain town has to offer. Wedge Brewing has several varieties of ales, but one of the best has to be Payne's Pale Ale.
---
The Asheville Beer Scene
If you love craft beer, Asheville is the place to be. Referred to as the Napa Valley of Beer by NPR, Asheville's beer scene has been booming and shows no signs of slowing down.
The beer scene here is a combination of local Asheville brewers and some big-name beer companies. These more prominent companies recognized the appeal of having their beer represented in this mountain town.
How Many Breweries Are in Asheville?
Although we touched on the 21 best breweries in Asheville, there are more than 21 in the area. Asheville is home to around 30 breweries in the city and surrounding neighborhoods.
What Area of Asheville Are the Breweries?
Breweries are all over Asheville! You can find the majority of the breweries in downtown Asheville or South Slope's brewing district.
What Is the Biggest Brewery in Asheville?
Several big breweries call Asheville home. The biggest brewery in the city is Sierra Nevada. But, if you're wondering what the biggest brewery that is local to Asheville; Highland Brewing takes the cake.
---
Final Thoughts
Overall, my trip to Asheville was filled with exploring, not only the breweries but everything this wonderful city has to offer! From wonderful mountain views, to some of the best hiking around, Asheville sure does offer a lot, and I'd highly recommend a visit here at some point.
Especially if you're a beet lover, this is the spot to be. With over 20 breweries within the city limits, you're sure to find a new favorite beer and brewery.
Looking for other things to do in Asheville? Check out our ranking of the best places to eat by clicking here.
Did I leave your favorite brewery off my list? Be sure to leave me a comment below so I can check it out!
This page may contain affiliate links. If you click through and make a purchase, we'll earn a small commission, at no additional cost to you.